What Real Italian Really Means
Family owned and operated since 2002, our roots run deep in Italy. Going back four generations to the island of Sicily, our ancestors were local farmers and grocers dedicated to the art of Italian food. Over the years, we have remained devoted to sourcing only the most premium ingredients so you and your family can enjoy the same authentic Italian quality and flavor from the comfort of your home.

Today we are proud to continue the tradition of fine Italian food with farms & production facilities throughout the Mediterranean.
As the only imported Italian specialties supplier offering a range of premium products grown, packed, and produced in Italy, we show you what real Italian really means by bringing the taste of Italy to your table with sauces, olive oils, balsamics, and specialty foods.
From olive oil crafted in individual batches to sauces made from premium ingredients sourced from Italy, you can trust that you are serving endlessly appetizing, authentic Italian flavors that will make every meal a masterpiece.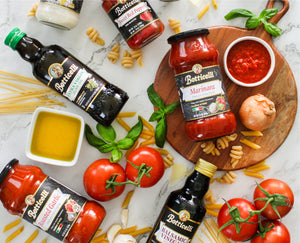 Brand Purpose
Our mission is to provide every family with the opportunity to bring home The Art of Italian Flavor with premium products like our pasta sauces, olive oils, vinegars, and other fine specialties. We are dedicated to making products that reflect our Italian family's core values of authenticity & unmatched quality. We craft our products with ingredients sourced directly from Italy, so that families can create meals with exceptional taste and a simplistic warmth that Italy is famous for around the world.
Rave Reviews
"I just wanted to brag about how great your products are! I grew up eating other pasta sauces, and didn't care for them...But one day I decided to buy your sauce and I will NEVER buy another pasta sauce, EVER! Your sauces are the BEST! Thank you for such great products!!!"
-Audra