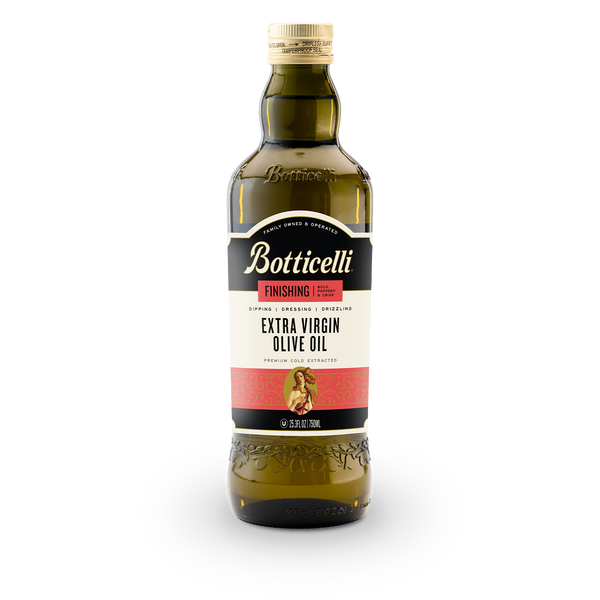 Hi…I'm the Bold one!
I'm bold, intense, and some might even say spicy. My blend of Italian Olives makes for my robust flavor full of peppery and crisp notes. Keep me on your kitchen counter because I'm the perfect add-on to almost any dish. Combine me with some Balsamic Vinegar and dip in some warm fresh bread for the perfect start to dinner, or make a homemade dressing with me. I'm my family's best-kept secret; watch me shine when you drizzle me on your homemade pizza or even your next bowl of ice cream! 
Ingredients: Extra Virgin Olive Oil
| | | |
| --- | --- | --- |
| | | |
| Cold Extracted | | |
Nutrition Facts
Servings: 50
Serving Size: 1 tbsp (15ml)
AMOUNT PER SERVING
Calories

 

- 120
Total Fat

 

- 14g (18% DV)

Saturated Fat

 

- 2g (10% DV)
Trans Fat

 

- 0g
Polyunsaturated Fat

 

- 1g
Monounsaturated Fat

 

- 11g

Cholesterol

 

- 0mg (0% DV)

Sodium

 

- 0mg (0%DV)
Total Carb

 

- 0g (0%DV)

Protein

 

- 0g

Not a significant source of dietary fiber, total sugars, added sugars, vitamin D, calcium, iron, and potassium.
Perfect For:

Dipping

Dressing

Drizzling
Shipping & Returns
Return Policy
We take great care and pride in selecting the highest quality products for our customers. If you are not satisfied with your purchase or an item is damaged, we will find another solution. Please contact us within 10 days by email or telephone.

Please email us at info@botticelli-foods.com
Or call us at 1-631-543-7000

Should there be an instance where you need to return something, you may ship it back to the following address within 10 days of receipt:

Botticelli Foods
59 Mall Drive
Commack, NY 11725
Attention: Customer Care

Shipping
Botticelli Foods ships via UPS within the contiguous United States. We are unable to ship to PO Box or APO addresses.

Shipping Fees
0.0 lbs - 15 lbs = $10.00 shipping charge
15.1 lbs - 30.0 lbs = $15.00 shipping charge
30.1 lbs - 50.0 lbs = $25.00 shipping charge
50.1 lbs - 75.0 lbs = $30.00 shipping charge

Taxes
We charge sales tax for any online orders from New York, New Jersey and Florida.
Ask a Question
Please email us at info@botticelli-foods.com or use our contact form.

Serve Endless Italian Quality
Need ideas for dinner? A Botticelli-made meal will keep you craving the taste of Italy. Check out recipes from our award-winning master chefs!
View Related Recipes